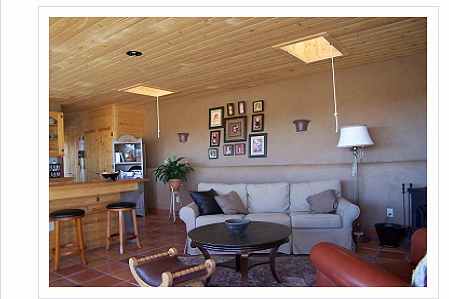 MAP: Taos, HelioHouse and the Ski Valley (only 25 minutes from HH!)
or...
Ojo Caliente!

You gotta try it! Come on UP !
(closer to the sky, over 7,000 ft)

Get an Educational experience and GO GREEN. Come to sunny New Mexico and experience earthship living. Our "Packaged Earthship", designed by world famous inventor, architect (biotect) and author, Michael Reynolds AKA: Garbage Warrior, is available for nightly rental.

You'll never suspect that this comfortable home uses recycled tires, aluminum cans and bottles for its main building materials.



Located on the mesa of the Sangre de Cristo Mountains and part of the Greater World Earthship community, this home is only 15 minutes away from the city of Taos and 25 minutes from Taos Ski Valley.
Earthship Biotecture's educational/visitor center is in this community.


Amenities include:
Earthship Books and Movies featuring Michael Reynolds with his philosophy and building techniques.
comfortable furnishings
queen size bed with therapeutic mattress and 100% cotton sheets
large footed bath with handheld shower
complete kitchen-*just bring your food
spices, good knives and cookware

wood stove with wood
wireless Internet for compatible devices
games, books and magazines
movies, laundry and groceries upon request.
Guestbook Entry :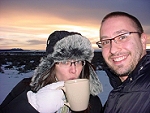 We absolutely LOVED it here! This house is warm, inviting and comfortable. It was easy to feel at home here with our pups :-) Thank you for sharing such a beautiful place with us. We have truly enjoyed ourselves-it was just what we needed. We're so glad we were able to spend a little time with you-thanks for coming by. You are both so friendly-we have felt so welcome.
~Jason, Cheryl, Ziggy & Audi, Dallas, TX
It's embarassing that these posted entries are so old, but all the guest book entries are full of satisfied guests to this day! April 2015. Come see for yourselves! Someday soon we'll get the rest posted, in the mean time, you can read more of the earlier entires:
more guestbook entries

'Official' Friends of HelioHouse